Warehouse automation in Malaysia
High adoption costs – the elephant in the room that deserves to be understood.
Malaysia is no stranger to warehouse automation, where it has been adopted to reduce operational costs, increase efficiency, reduce human errors, etc. While implementing warehouse automation can be beneficial, the common misconception regarding high adoption costs must be understood. To address this misconception, we first need to understand warehouse automation.
We categorised warehouse automation into two categories:
1. Physical automation

Includes the usage of robots for physical logistics activities, such as picking, sorting, transporting, and storing. Examples include programmable machines in the forms of: 



Automated Guided Vehicles (AGV) 


Autonomous Mobile Robots (AMR) 


Automated Storage and Retrieval Systems (ASRS)
Figure 1: Automated Guided Vehicle (AGV)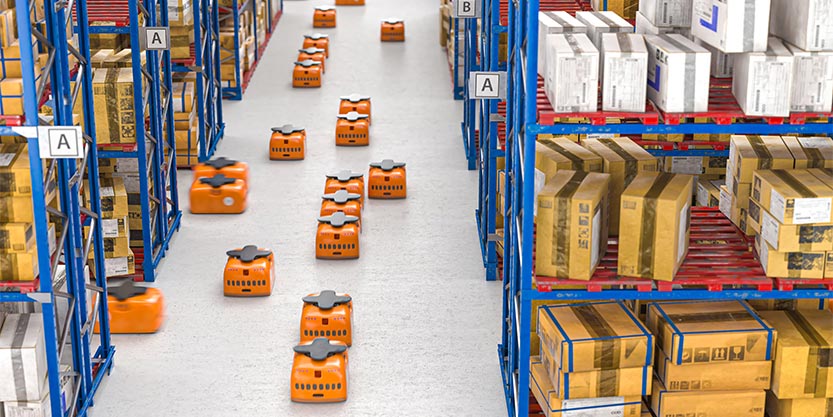 2. Non-physical automation
Typically comes in the form of Warehouse operation & Management Software (WMS)


Offers automation based on algorithms and sensors in the warehouse to manage inventory, robots, and employee activity
Both physical and non-physical automations are highly customisable to suit specific warehouse operational needs. They often come with varying services; hence, the adoption cost is not necessarily high.

For mobile or modular robots and guided vehicles, the cost could go from tens of thousands up to hundreds of thousands, depending on the manufacturer, scale, models implemented, etc. At the same time, systems that require physical installation and fittings, such as the ASRS, are also highly customisable. ASRS adopters can potentially cost between MYR 800 and MYR 1,500 per pallet position, depending on the complexity of the overall system. Case in point, a manufacturing plant in Selangor invested MYR 78 million in their ASRS, which translates roughly to MYR 1,560 per pallet positioning. Another distribution hub, also in Selangor, invested MYR 199 million in the system, translating to MYR 925 per pallet positioning. 
Figure 2: Cost of ASRS Installation

As for non-physical automation such as WMS, prices can start from hundreds per user for basic functions (e.g., off-the-shelf Software-as-a-Service) on a monthly subscription licence. These prices vary according to the increase in customisation, functionality and licence types (e.g., perpetual, unlimited users, etc.).
Based on these examples, it is evident that automation adoption need not incur high costs. The actual cost depends on the adopter's specific warehouse needs. With the varying types and scales of warehouse automation, logistics players at any level can consider automation adoption based on their business plans. The warehouse automation process may start small with the adoption of simpler (and more affordable) automations that are sufficient to address the core issues warehouse operators face.